IV HELSINKI KISS EXPO & HARD ROCK HELL
UPDATE 31.05.2013 (16:24): Schedules added
UPDATE 20.05.2013 (23:18): Video update. Richie added.
UPDATE 13.05.2013 (21:39): Richie Scarlet info added
UPDATE 13.05.2013: Kawasaki logo added

MAIN PROGRAM (stay tuned for updates)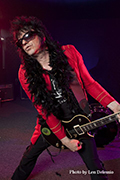 Richie Scarlet will join IV Helsinki Kiss Expo 2013! (Ace Frehleyband, Sebastian Bach band, Frehley's Comet etc)
LYDIA CRISS will be our special guest. There will be Q&A session, photos, signings etc. Her book Sealed with a Kiss is a book that all Kiss fans should own and read. You can by that book on location.

KISSMUSEUM will arrive from USA with their massive Kiss merchandise collection. Other dealers / merchants present are Johnny F, Music Hunter, Hellsinki Rock Shop, PSI, Keltainen Jäänsärkijä, Universal Music, LiveNation, KAF among others.

LIVE MUSIC. Music is performed by Stala & Co acoustic duo. Stala (ex-Lordi) will perform a selection of Kiss and other hard rock songs. Expect a great set list.
KISS EXHIBITION will include massive Axe –collection and original Kiss regalia, stage-used outfits and more.
FOOD & DRINKS. Pressa will serve drinks all day during the expo & we will also have something good for our hungry Kiss fans. Stay tuned for more info.
AT THE CINEMA of our venue there will be shown rare Kiss videos all day non-stop.
12.00-13.30 Sao paulo, brazil, 17.11.2012 (Pro shot) 
13.30-14.30 Ace Frehley Live in Poughkeepsie, Ny 1992 + Promo 1993 + Anton Fig Drum Video (1 cam + Proshot + Proshot)
14.30-16.00 Quebec, Canada 1984 (1 cam)
16.00-17.00 Cobohall, Detroit, 29.1.1977 (Pro shot)
KISS MAKE-UP service will be also available during the day by our professional make-up artists.  
COME OUT & PLAY! Kiss fans from all over will have a great time with us. Rock On!
AFTERPARTY: To make sure that our day will be perfect, there will be after party at restaurant On The Rocks, Address: Mikonkatu 15, Helsinki,  Richie Scarlet & Frehley's Vomit Plus KAF Allstars will play biggest hits mixed with some really obscure songs from the entire career of Kiss!
Schedule:

12.00 Doors open

14.00 Lydia Criss Q&A

15.00 Richie Scarlet Acoustic Set & Q&A Session

16.00 Stala & Co duo, acoustic set
Program will be updated so stay tuned!
YOUR HOSTS: KISS ARMY FINLAND & PRESSA. YOU ARE MORE THAN WELCOME!
Date:
Monday, 3rd of June (day of Kiss show in Helsinki)
Venue:

Restaurant PRESSA, address: Antinkatu 2, Helsinki. www.pressa.fi Our venue is located right at the heart of Helsinki (near Kamppi shopping center complex).

Entrance: Main entrance: Hotel Presidentti. After info desk you will find a stand showing your way to Kiss Expo / PRESSA

Route from Expo to Hartwall Arena (The Kiss Concert):

Take bus no: 69 from downtown (square "Elielinaukio", next to railway station) or tram no: 7A from the road Mannerheimintie. All local trains also stops at Pasila station which is right next to Hartwall Arena.

Info :
www.kissarmyfinland.com
Ask :
expo@kissarmyfinland.com
Facebook :
facebook event
Tickets:

15 € (Kiss Army Finland members 12 €). Tickets: from the door only.

Doors:

12.00 – 17.00


Advertising :

expo@kissarmyfinland.com
Vendors:
expo@kissarmyfinland.com
Press and media:
media@kissarmyfinland.com
All rights reserved. Copyright 2013. Artist may be subject to change.