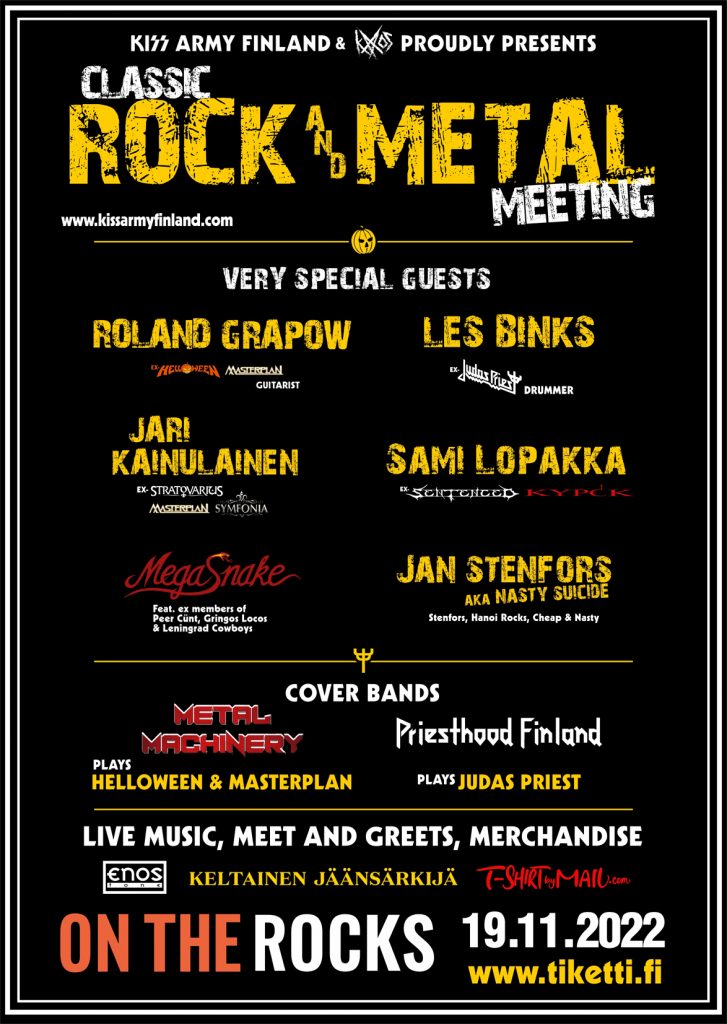 KaaosZine ja KISS Army Finland järjestävät yhteistyössä Classic Rock & Helsinki Metal Meetingin Helsingin On The Rocksissa. Tapahtumassa esiintyvät muun muassa Judas Priestistä tuttu ja loppusyksystä Hall of Fame -palkinnon saava rumpali Les Binks, Helloweenissa pitkään vaikuttanut nykyinen Masterplan kitaristi Roland Grapow sekä mm. Stratovariuksesta tuttu Jari Kainulainen.

Hanoi Rocksista ja uudesta Stenfors -bändistään tuttu Jan Stenfors (Nasty Suicide) on paikalla livehaastattelussa ja meet & greetissä.

Mukana on myös kirjailija Sami Lopakka, joka tunnetaan myös Sentencedistä ja KYPCKistä, sekä suomalaisen rockin uudeksi supergroupiksikin kutsuttu Megasnake -yhtye, jossa on mukana Peer Cüntista ja Gringos Locosista tuttuja muusikoita.

Päivän aikana tapahtumassa nähdään myös useita muita rock- ja metalligenrestä tuttuja muusikoita, joista tiedotetaan myöhemmin. Paitsi livemusiikkia, tapahtumassa on tarjolla myös Sampsa Astalan juontamia artistien livehaastatteluita, sekä meet&greet- ja nimikirjoitussessioita.

Tapahtumassa on paikalla useita levyjä ja merchandisea myyviä kauppiaita, mutta osallistujilla on mahdollista hankkia artistien myymiä tuotteita myös suoraan artisteilta ja saada signeeraus valitsemiinsa tuotteisiin (rajoitetusti). Tapahtumassa on myös paikalla Liken rock/metalli-genren kirjailijoita. Heidän kirjojaan on mahdollista hankkia tapahtumasta ja kirjailijat myös signeeraavat teoksiaan illan aikana.
Sekä Les Binks että Roland Grapow soittavat noin 45 minuutin mittaiset livekeikat, jotka koostuvat artistien entisten ja nykyisten bändien biiseistä. Binksin kanssa esiintyy Priesthood Finland ja Grapowin kanssa lavalla nähdään Metal Machinery.
CLASSIC ROCK AND METAL MEETING 2022
19.11.2022
KLO 17:00-24:00
ON THE ROCKS
www.rocks.fi
Mikonkatu 15
00100 Helsinki
LIPUT:
25€ (Tiketti)
20€ KAFin jäsenille
LISÄTIETOJA:
KaaosZine
Tapahtuma Facebookissa
MEDIA JA HAASTATTELUPYYNNÖT:
Marko Syrjälä
email: marsyrja@gmail.com
mobile: +358 40 5636773

Alunperin tapahtumaan yritettiin saada KISSin kanssa läheisessä yhteistyössä ollutta henkilöä, mutta valitettavasti koronan siirrettyä tapahtumaa uudet aikataulut eivät kohdanneet. Näin ollen KISS ei näy tapahtumassa. Päätimme silti jatkaa tapahtuman järjestämiseen osallistumista, jotta voimme tarjota jäsenillemme musiikkitapahtuman myös nyt syksyllä.
IN ENGLISH

Classic Rock And Metal Meeting in Helsinki on 19th November 2022

KaaosZine and KISS Army Finland jointly organize the Classic Rock & Helsinki Metal Meeting at On The Rocks in Helsinki. The event will feature Judas Priest's drummer Les Binks, who will receive the Hall of Fame award at the end of autumn, as well as Masterplan guitarist Roland Grapow, who has long influenced Helloween, and Jari Kainulainen, known from Stratovarius, Masterplan and Evergrey. Sami Lopakka, known from Sentenced and KYPCK, will be signing his books. On the current bill are the new Finnish supergroup Megasnake, which features well-known musicians from such groups as Peer Cünt and Gringos Locos, and Jan Stenfors (Nasty Suicide).
During the day, the event will also feature several other musicians known from the rock and metal genres. In addition, to live music, the event also offers live artist interviews hosted by Sampsa Astala, as well as meet&greet and autograph sessions.

Several merchants will be selling records and merchandise at the event, but participants can also purchase products directly from the artists and have the products of their choice signed (limited). Writers of the rock/metal genre from publisher Like will also be present at the event. It is possible to get their books at the event, and the authors will also sign their works during the evening.

Both Les Binks and Roland Grapow will play approximately 45-minute long live shows consisting of songs from the artists' past and present bands. Priesthood Finland will perform with Binks, and Metal Machinery will be seen on stage with Grapow.

More guests and a detailed program will be confirmed during the fall.
CLASSIC ROCK AND METAL MEETING 2022
19.11.2022
17:00-24:00 PM
ON THE ROCKS
www.rocks.fi
Mikonkatu 15
00100 Helsinki
TICKETS:
25€ (Tiketti)
20€ KAF members
MORE INFO:
KaaosZine
Event at Facebook
PRESS AND MEDIA INQUIRIES:
Marko Syrjälä
email: marsyrja@gmail.com
mobile: +358 40 5636773